Tell us about your role in the creation of this work.
As Special Project Director, I and my team helped making projects happen. The idea was created by Linus Oura, Felipe Lermen, Sergio Gordilho, Sophie Schonburg, and Marco Bezerra, they came to me with the idea and of course I loved it! At first I thought… "How we are going to convince the biggest gamers to pretend they are not who they are?" But since we began to talk to them and share the cause, we saw that they were tired of these kind of prejudice and bad behavior in online games too and that they were willing to help.

Give us an overview of the campaign, what is it about?
The gaming industry is bigger than ever. It's twice as large as Hollywood's. Every day, 1.8 billion gamers play online. Almost half of them are girls. A study from Ohio University showed that 94% of these girls have suffered some form of harassment while playing games. Yes, that's right, 94% worldwide. Because of that, many girls were hiding their identities behind male nicknames in order to protect themselves. It was very unfair. It had to end. So we started #MyGameMyName, a movement created to empower women in the online gaming world. We started by inviting the biggest male gamers to play for one day with a female nickname, and feel like girls do every day. All of this gamers got harassed. So we asked them to share their experiences on their YouTube channel and invite their followers to start to promote a change. The results were (and still are) amazing.

Tell us about the details creative brief, what did it ask?
Actually there was no brief. This was a project that we took to lead on and presented to our client Vivo.
Telefonica's Vivo, is the main internet provider for gamers in Brazil, so when we acknowledged this issue we knew we had to do something and that Vivo would love to make this happen.
Also, we partner up with Wonder Women Tech, a global NGO that helps to empower women in all sorts of fields.

Which insight led to the creation of this piece of work?
The Ohio research we found about the harassment in gaming, was the first sparkle that started this movement. After that, we also did a lot of meetings with gamers, professional, amateurs, boys and girls, to actually understand how, why, and when this happened. These meetings also helped us start a word of mouth movement, inviting our project ambassadors and biggest partners.

Can you share with us any alternative ideas (if any) for this campaign? Why was this idea chosen?
I think there were no alternative ideas, but the way to make it happen changed a little bit.
The first thought was to invite the male gamers to play with the girls names in different days and post the experience throughout the month. But we realized that the best would be to concentrate them all in one specific day, so we could get the best results and numbers on social media, once they would all share it together and it would bring a bigger attention.

What was the greatest challenge that you and your team faced during development?
One of the challenges brought the girls to talk about their bad experiences (being harassed while playing). Is sad but in order to change something, sometimes we need to shock and actually show people what was happening inside these games. But the greatest challenge of all was (and still is), convincing the gaming industry to step up and do something about it. This happens in the biggest games in the world, games owned by Blizzard, EA, Nintendo, Riot Games, Sony, Ubisoft, Treyarch and it goes on… but nobody does anything about it. There is a button that you can click to report when someone is cheating but there is nothing about harassment and again, this happens to 94% of girls worldwide that play every day. We sent various emails, we tried calling, tweeting a lot of these companies asking for some answers. We also published an open letter written by Malena (gamer) in the LA Times (Los Angeles is where most of these game company's headquarters are based) asking them directly to help us promote a change and until today nobody has replied. We actually gave these companies a great opportunity to be the first to step out about this issue. This is a fundamental move and also a huge positive PR for them. But so far, we have received no answers. We want a solution, a harassment button in games, we want them to show they care about the women and girls that play their games.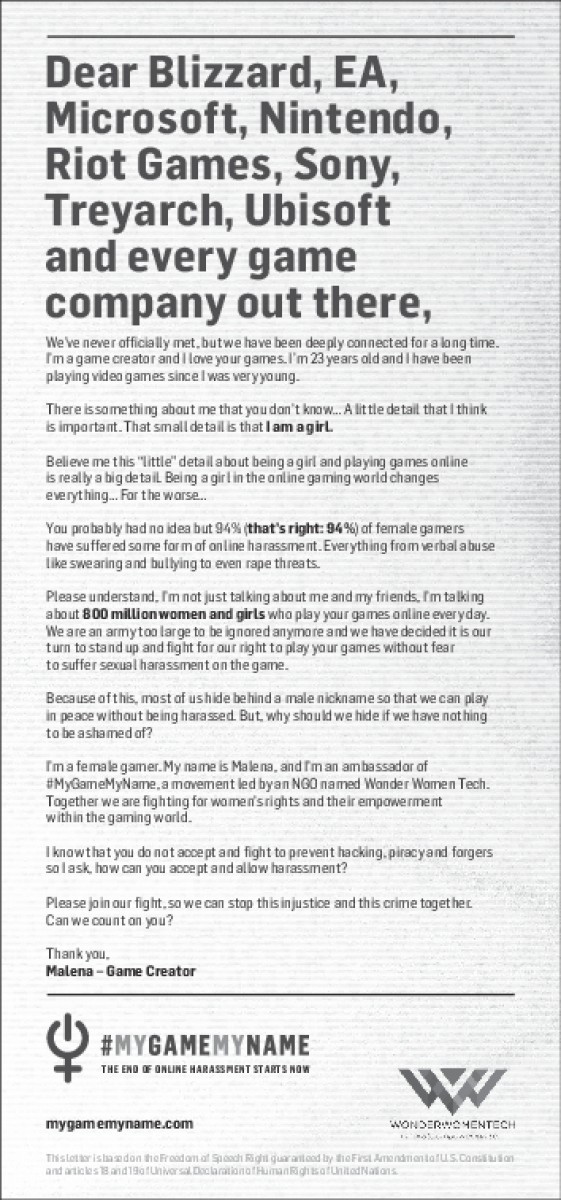 What did you enjoy most about seeing this campaign through? Did you learn anything new from the experience?
I loved seeing that the first video we posted showing the experience (male gamers playing with girls name) without media investment, reached more than 2M views in the first day and had more than 200 thousands comments on the first 4 hours. So we quickly realized that this was indeed a subject that needed attention. Overall, I learned a lot from this project. I have done big projects in the past, but none reached the attention that #MyGameMyName did. All the process was interesting since doing research and talking to gamers (professional and amateur) about the issue, inviting the most famous male gamers be a part of it, until defending the project in the Cannes Lions Glass stage this year. I went to pitch the project and share the details of it. We also brought Malena with us, she is the ambassador of the project, the biggest female youtuber/gamer in Brazil, and also the 5th in the world. So Malena talked about her sad experience being harassed and her struggle in the begging of her career. And I talked about how was making it happen and exposing this movement to the world.

Where do you see this campaign going in the future?
That's a great question because MyGameMyName is not a Campaign that has a deadline, MyGame is a movement.
We know that we came a long way, nowadays people use the hashtag to report an abuse and they usually are more open to step up and expose the problem.
But we still have a long way to go. We are working so that in the early future, we will finally have the game company's support, that will definitely be a shortcut in achieving our goals.
Yes, we are believers!