Today, we're going to be taking a look at some of the most controversial billboards that have been produced. Buckle up for what's bound to be an entertaining and outrageous ride. These are in no particular ranking—I'll let you be the judge on what's the worst.
Calvin Klein Jeans
Calvin Klein is known for showing very provocative imagery in their advertisements.
Specifically, their Calvin Klein Jeans brand has come under fire due to the imagery it features. One of those billboards can be found below. They're definitely leaning into the old advertisement belief that "sex sells", but for some, the picture comes off as violating.
This Calvin Klein ad from 2010 was found to be too violent and provocative. Photo via Campaign US.

Arrangement Finders

Bree Olson, Charlie Sheen's ex-girlfriend and former adult film actress was the face of a rather racy billboard campaign in Chicago, Illinois back in 2013. The billboard was a promotion for Arrangement Finders, a match-making service that connects sugar babies with sugar daddies. The billboard was rolled out in Chicago because it was actually the city with the most sign-ups in the entire country, at least, according to this NBC Chicago article. In bold lettering, the billboard reads, "The best job is a blow job".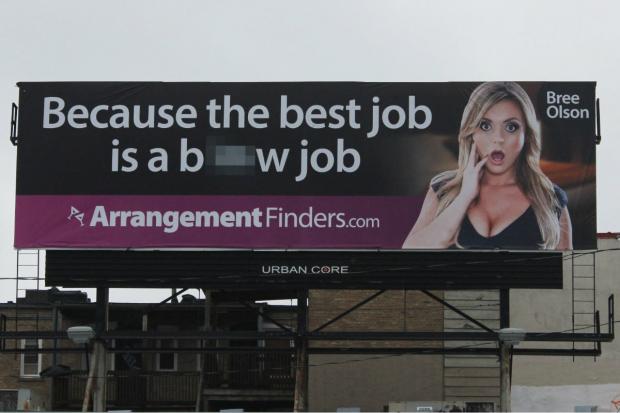 Former adult film actress Bree Olson was the face of a very controversial billboard. Photo credit: DNAinfo/Victoria Johnson.

PETA & Save the Whales

PETA (People for the Ethical Treatment of Animals) is a non-profit organization that is infamous for taking extreme actions against the consumption of meat-based food products. They generally advocate for animal rights. The organization created a "Save the Whales" billboard that some people took to be "fat-shaming". As you can tell by the messaging, the billboard is encouraging people to go vegetarian. While there's nothing inherently wrong with promoting healthy diets and animal rights, there is surely a more respectful and appropriate way of going about it.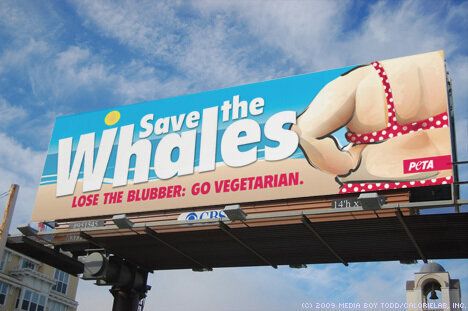 People argue that this billboard from PETA is in bad taste. Photo via HuffPost.

Bergemann & Son Funeral Services

When you look up controversial billboards on the Internet, this will most likely be one of the first results that you come across, and with good reason. This infamous, yet rather funny billboard was posted in a Berlin subway tunnel. The billboard reads "Come a little closer". Of course, if people were to actually do this, they would get run over by a train. Then again, an unfortunate demise like that would be profitable for a funeral company, which is the joke that Bergemann & Son are trying to get at.
This billboard is perfect meme material. Photo via Woman's Day.

Keep up to date with our blog for more entertaining and insightful articles on the billboard industry.