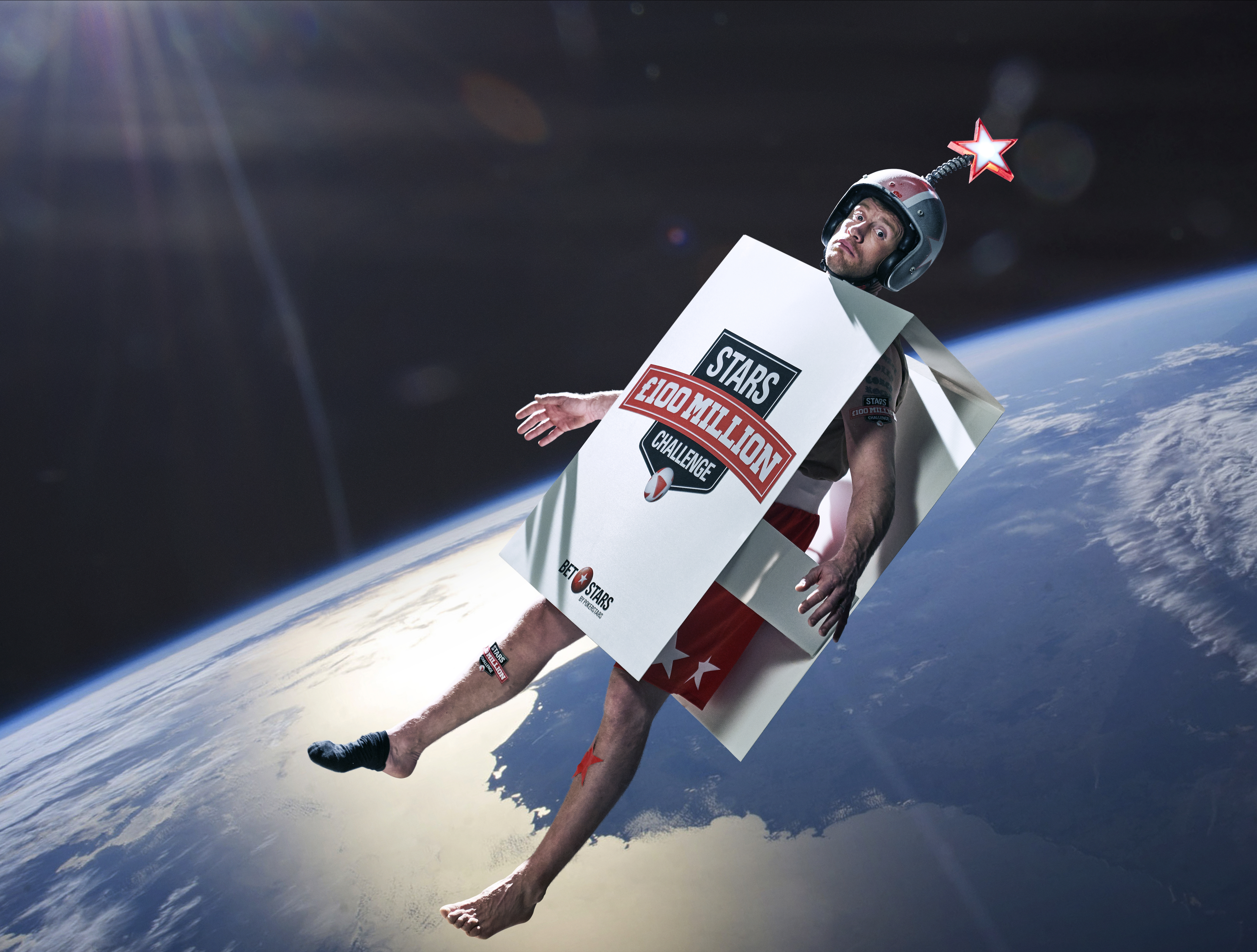 CP+B London and Stars Group launch Freddie Flintoff into Space in Biggest World Cup Betting Promo Ever
With a cheeky nod to previous big budget space-related stunts, online gambling company and owner of PokerStars, BetStars and PokerStars Casino, 'The Stars Group' will today launch a six-week campaign to promote their £100m World Cup Challenge.
Inviting viewers to enter for free and correctly predict the results of this summer's 64 World Cup games – just the win, lose, or draw – to win up to £100 Million, in a media-first, the launch spot sees a somewhat non-plussed Freddie Flintoff transformed into a tacky human billboard and 'catapulted into space' thanks to visual effects. "You see Freddie, the prize is the star, not you," explains the voiceover. In a follow-up spot – launching a separate big money promotion during the World Cup – we see the cricketing legend unceremoniously dangled in front of a CGI green screen, his head the only part of his body in view. "I better not just be the dot on the i" he grumbles.
The campaign, from Crispin Porter + Bogusky London and directors Traktor, marks a fresh creative approach to marketing at Stars, under former Paddy Power CMO Christopher Coyne who was named chief marketing officer at The Stars Group earlier this year. The contest is open to adults in the U.K, Sweden, Denmark, Norway and Finland
CP+B Executive Creative Director, Dan Watts, remarked: "Unlike big-gun marketers like Red Bull and Kit Kat who've spent millions getting their brand into outer space, Stars is giving millions away instead. And when you've got a promotion as big as £100 million you don't really need a celebrity to sell it – but you can certainly use one to promote it. Literally. Thanks Freddie."
"When we decided to launch the biggest betting promotion in history, we thought about hiring the biggest star in the world to be the face of the Stars £100 Million Challenge... but there isn't a star that's big enough so we got Freddie Flintoff," joked Christopher Coyne, Chief Marketing Officer of Stars Interactive Group.