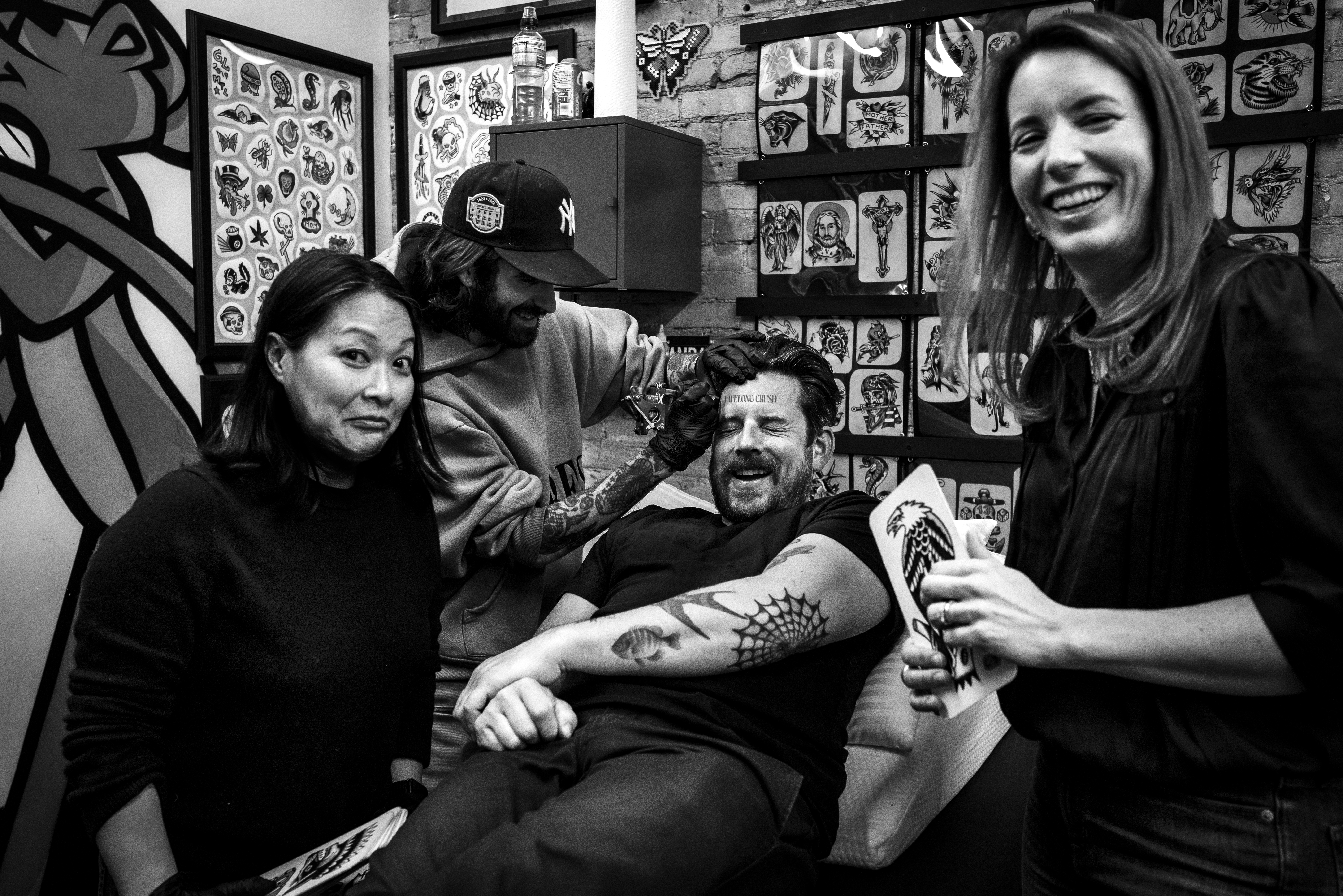 Since launching almost three years ago, Lifelong Crush, has built a foundation of culturally relevant content for clients in Canada, the US and abroad. Now, the agency is taking it to the next level by welcoming two of the country's top creatives, Derek Blais and Christina Yu, as its first Chief Creative Officers, and rebranding the group to reflect a new, multidisciplinary creative approach that helps brands build lasting impressions.
These two remarkably talented leaders are renowned for their creative problem solving and bring a breadth of diverse experience to the group. While this is the first time they have worked together, the respect and trust they share runs deep through the organization based in longstanding relationships they each have with the Lifelong Crush founding partners and leadership.
Derek Blais is known for his human-centric approach, and his creative leadership has been recognized at every national and international award show for clients like Kijiji, RBC, Ford, Mars Wrigley, Pepsi Co., McDonald's and Heineken. It is also on display in the permanent MBA case study collection at The Rotman School of Management at The University of Toronto. He holds a spot on the Forbes 30 Under 30 list. His photography has been featured at Art Basel, his music videos recognized in Cannes, and just last week Derek's incredible work, Missing Matoaka was awarded a staggering 14 Pencils, including two Best of Show at the prestigious One Show Awards.
At Tribal DDB, alongside founding partner Jay Chaney, Derek conceived of and executed the ground-breaking QSR campaign for McDonalds, Our Food, Your Questions that got recognized and implemented in markets globally, winning Tribal DDB Agency Of the Year and Digital Agency Of the Year – for the first time. At BBDO, Derek created multiple award-winning campaigns with founding partners Carlos Moreno, Todd Mackie and Denise Rossetto, and Lifelong Crush Managing Director Caroline Kilgour, helping the group rise to the #1 network agency of the year.
Christina Yu is a Cannes Lion award-winning Creative Director, and Film Director who is one of Canada's Top 100 thought leaders. Before launching her own business, Christina was Managing Partner, Creative Director at Rethink Canada, where she helped lead them to Agency of the Year and Design Agency of the Year in both 2019 and 2020. She co-founded Red Urban for DDB Network, working with Caroline Kilgour where together they won Cannes accolades and broke sales records for Volkswagen and Subaru. She has long, creative relationships with Denise Rossetto and Todd Mackie from her time at DDB, along with Broken Heart Love Affair CCO's Craig McIntosh and Jaimes Zentil.
Christina has been named Top 30 Under 30, "Marketing Icons in the Making" and has taught for many years at the Ontario College of Art & Design. She has been awarded at Cannes, One Show, Clios and received a Canadian Screen Award for filmmaking. Her unique design sensibility and brand-building talents have helped drive breakthrough success for blue chip brands globally in virtually every category, including Stella Artois, FedEx, Pepsi, Audi, J&J, Virgin and Capital One to name but a few.
With the acquisition of Christina's business, Lifelong Crush adds Kelseys Original Roadhouse, Truss Beverages and Lee Valley Tools, among others, to its growing roster of exciting clients, and Christina becomes a partner in Lifelong Crush.
"You realize after being in this industry and seeing so many different models, that what's most important is sticking with the people who share the same values and the same pursuit to create work with genuine value," Yu said. "I know I've found that place in Lifelong Crush. As a bonus, imagine being critiqued and inspired by the best creative problem solvers in the world, in the founding partners."
Blais added, "what's amazing about Lifelong Crush is that the clay is still wet - and by design will always be. I'm so excited to team up with Christina and Caroline and help shape the next chapter of this agency. With client budgets and timelines under pressure – it's creativity that will save the day. Creativity that exists outside of a medium or a media buy. The focus that we all share at Lifelong Crush is cultural relevance – the kind of work that creatives love working on – and the kind of work that stands out from the mess of media we see on a daily basis. We know these things combined will create outsized attention for our clients and punch above budgets to ultimately drive outsized business results."
This exciting new chapter of high energy creativity at Lifelong Crush is embodied in a new visual identity and agency ethos, "unconstrained ideas forever" anchored in a multidisciplinary approach to solving problems with cultural beat, to help brands leave lasting impressions.
"Since founding Lifelong Crush as the content and production arm of Broken Heart Love Affair, we have had the dream of bringing two distinct but complementary centres of creative excellence to the Canadian market", said founding partner and Chief Business Officer Beverley Hammond. "Our path to that goal is fuelled by our talent hoarding philosophy, and bolstering the Lifelong Crush creative leadership with Christina and Derek really increases the velocity of that creative trajectory. Their entrepreneurship, and propensity for ideas across all mediums will be a huge competitive advantage not only for Lifelong Crush, but for our clients."